UWSCC believes that physical and mental health equally affect a person's quality of life.  Just as we seek a doctor's aid with our body's pains and ailments, our minds require the same care.  Emotional and cognitive ailments can hinder a person's degree of enjoyment of everyday life just as severely as a major illness or injury.  Education in the form of advocacy also plays an important role in the quality of life of our community.  Society tends to segregate what is unknown or different from what is considered to be normal.  Advocacy helps to dispel fear and break down barriers so we can all live in harmony.
---
Please read the success stories below to learn how your investment is impacting your community.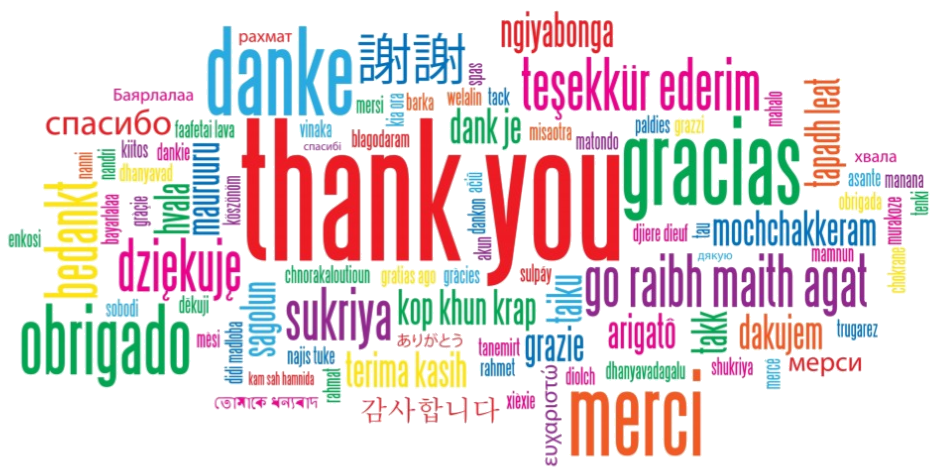 Are you looking for a service project for an individual or group?  A hands-on way to help your community?
Below are images of Care Kit grocery lists.  We encourage you to consider assembling a Care Kit for a program below.  We have included contact and drop-off information as well as a list of items recommended by the Affiliated Organization who provides the program.  When assembling Care Kits, please consider a tote or tub such as a reusable grocery bag, sinch sack, or other size appropriate storage container for packaging.  Every bit helps!
---
Funded Programs
(Click to View Details or Scroll Down to Peruse)
---
Catholic Charities of Southeast Michigan provides compassionate, quality, professional counseling services for St. Clair County residents through their Port Huron office.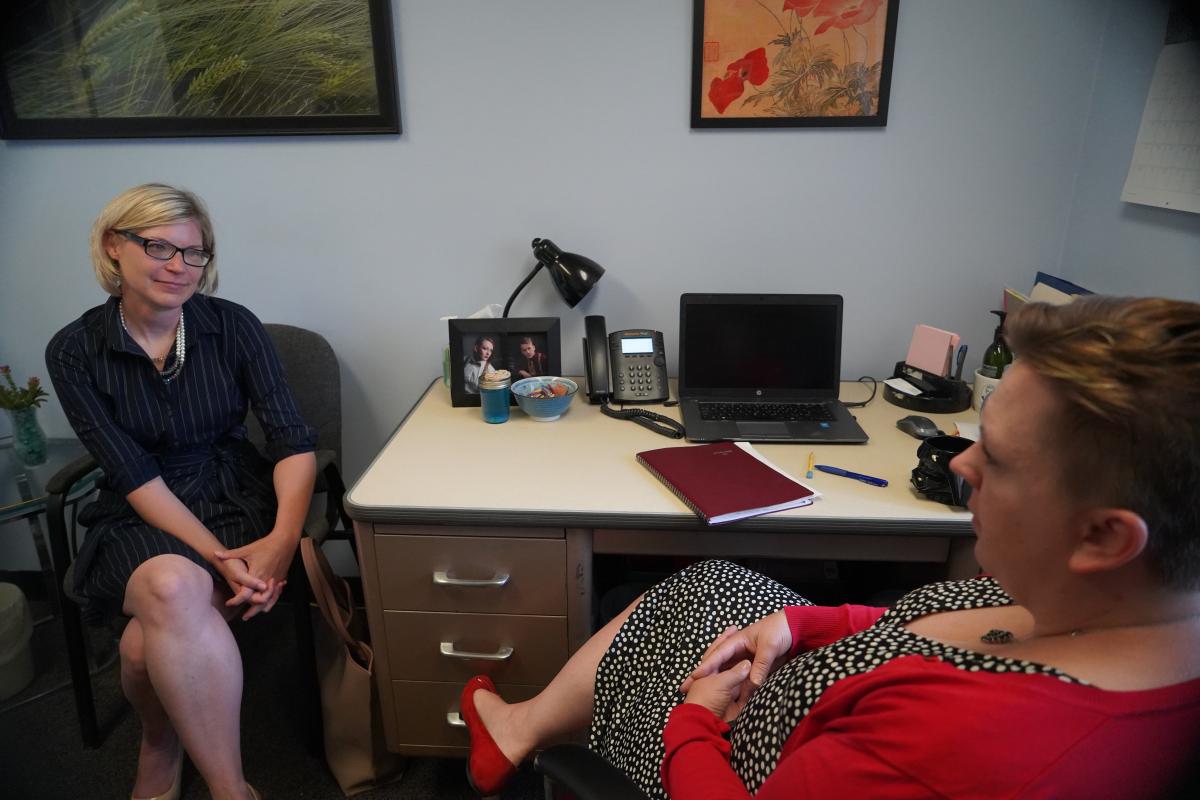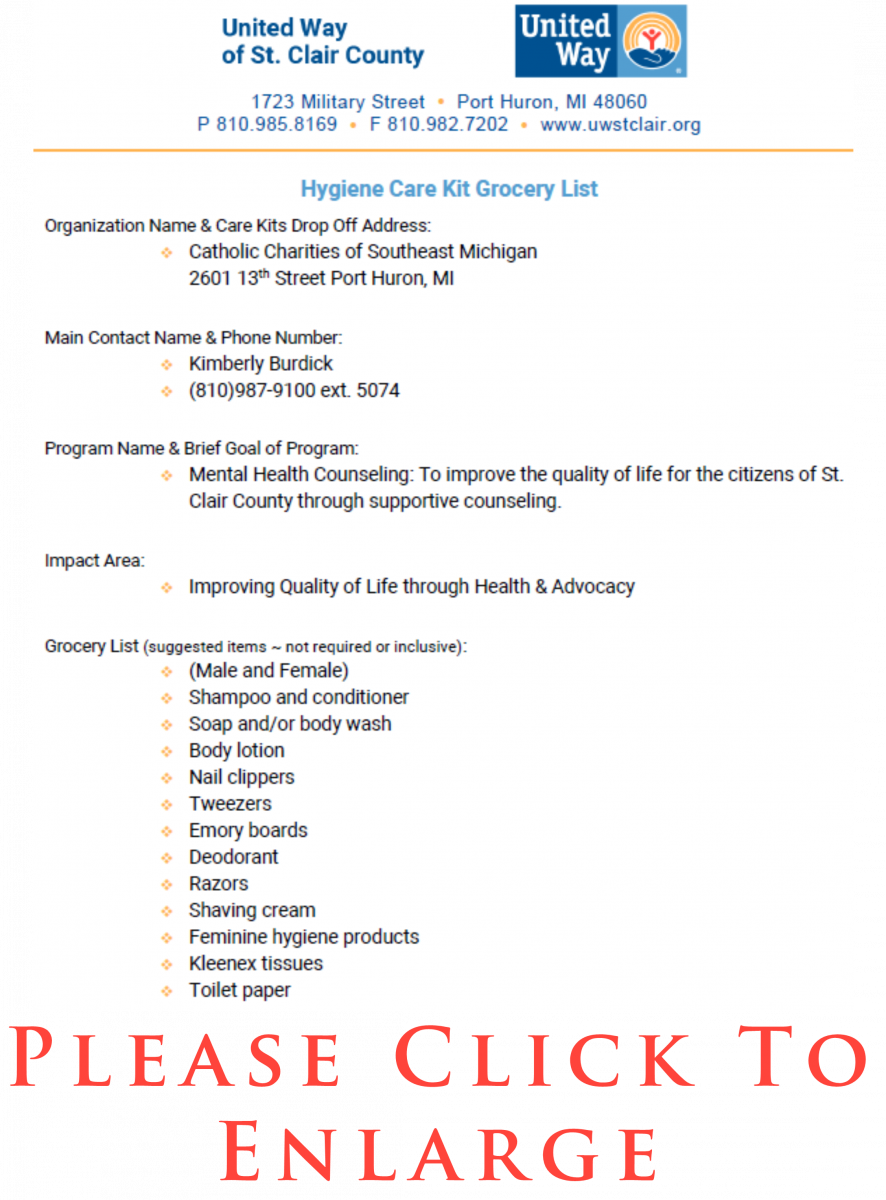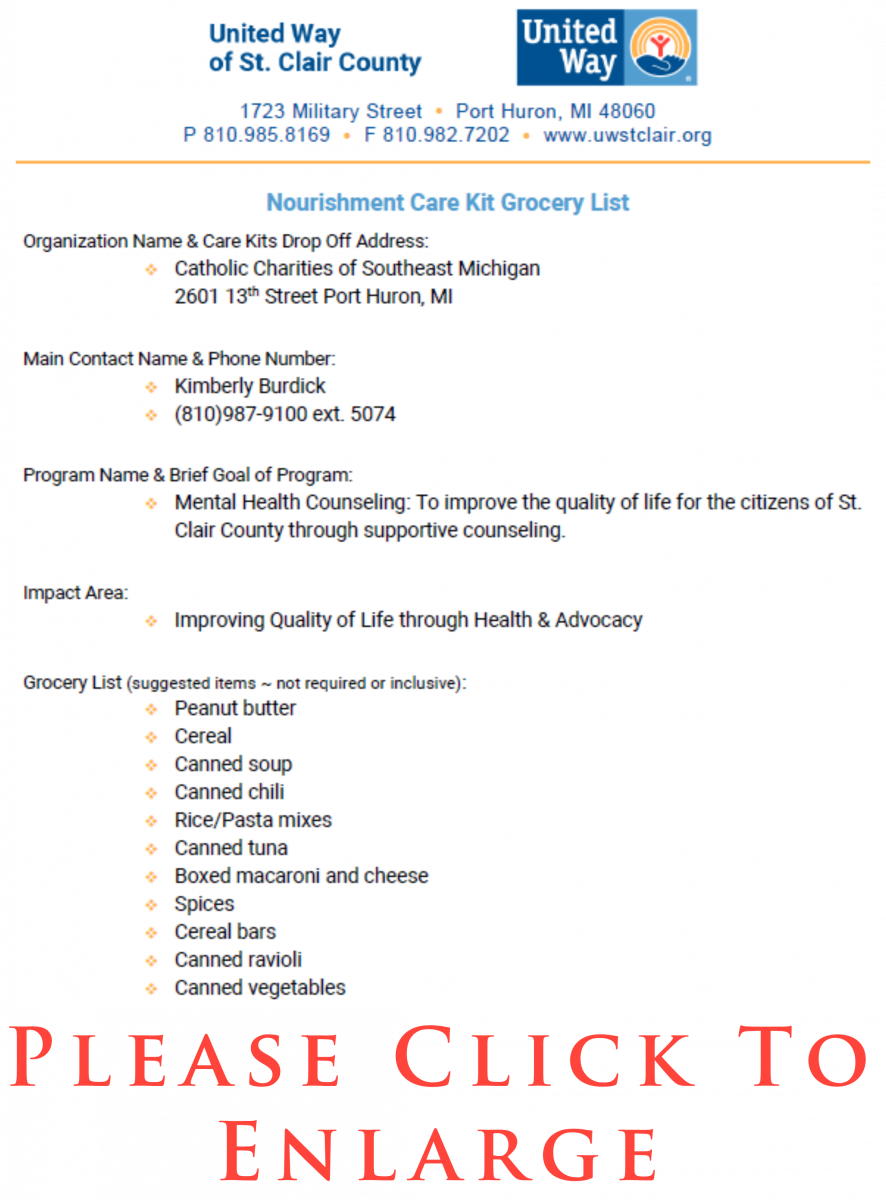 An example of the wonders that your generosity supports:
        "Catholic Charities of Southeast Michigan (CCSEM) is a shining light as it serves both individuals and families.  Our community is blessed to have them.  As an individual who has sought assistance when the 'downs' became too hard to climb out of alone, CCSEM has been a welcoming place.  Not just the physical building with its kind and caring staff, but CCSEM as a whole entity.  An atmosphere that conveys both respect and dignity is often the first step to feeling better about seeking assistance.  In my own recurrent issue with depression, I don't hesitate to make that call.  Investing in people… always a good thing."
Ramp Construction ~ Community Enterprises of St. Clair County
Community Enterprises of St. Clair County (CESCC) serves adults with intellectual & developmental disabilities. Their programs are designed to help individuals in their quest to live & work in the community.  Are you or someone you know in need of a wheelchair ramp?  CESCC can help!  The Community Enterprises' WoodWorks Crew has been building in our community since 1997.  They offer quality workmanship at competitive prices including decks, porches, wheelchair ramps, low-tread steps and other wood projects.  Their ramps are constructed according to a design by the Metropolitan Center for Independent Living Ramp Project in Minnesota.  Ramps conform to ADA standards and are ideal for northern climates.  Moreover, compliance with local code requirements is guaranteed.  United Way of St. Clair County funding provides financial assistance for qualifying residents who cannot afford necessary accessibility construction and repairs.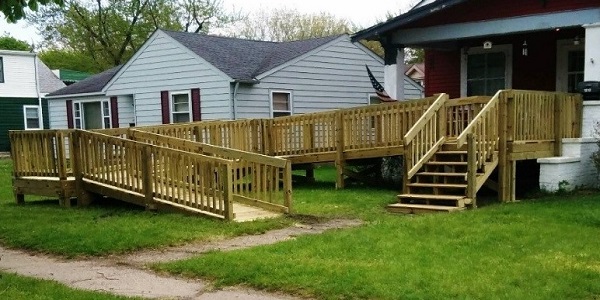 An example of the wonders that your generosity supports:
        An individual who received a ramp this year, stated in her survey, "Thank you so much for building a new porch and handicapped ramp for us.  I am forever grateful, its easier to get in and our of my house safely especially having a physical disability and terminal health condition.  I can now use my rolling walker and motorized scooter to get in and out safely. Thanks a million and God bless you all and your program.  Now I can live my life safely without worrying about falling on any stairs."
Senior Project Fresh ~ Council on Aging, Inc., serving St. Clair County
The Council on Aging, Inc., serving St. Clair County (COA) provides programs and services that are dispatched from four multi-purpose senior centers in an effort to accomplish the mission.  Senior Project Fresh is a program of the USDA operated in Michigan through the Aging and Adult Services Agency (AASA) and locally sponsored by COA.  One goal of Senior Project Fresh is to improve the nutrition of limited income seniors by encouraging and enabling the addition of more fresh fruits and vegetables in their diets.  This is accomplished through education, hand-outs, and coupon vouchers they can use to select fresh fruits and vegetables of their choice from local farms at participating farmers markets and roadside stands.  The second goal is to enable increased sales for local farming families by encouraging and enabling more seniors to shop at the farmers markets and roadside stands for the fresh produce.  The sponsoring agency raises funds to purchase the vouchers from AASA.  They then distribute the voucher books containing ten $2 coupons, along with providing nutritional information to qualifying low-income seniors.  The seniors use the coupon vouchers at the local farmers markets.  The farmers turn the coupons back into the state for reimbursement.  To qualify, seniors must be 60 or older, at 185% of poverty level and provide proof of residency in St. Clair County (with a driver's license or state identification).  Per month, the income level is $1,872 for one person or $2,538 for two.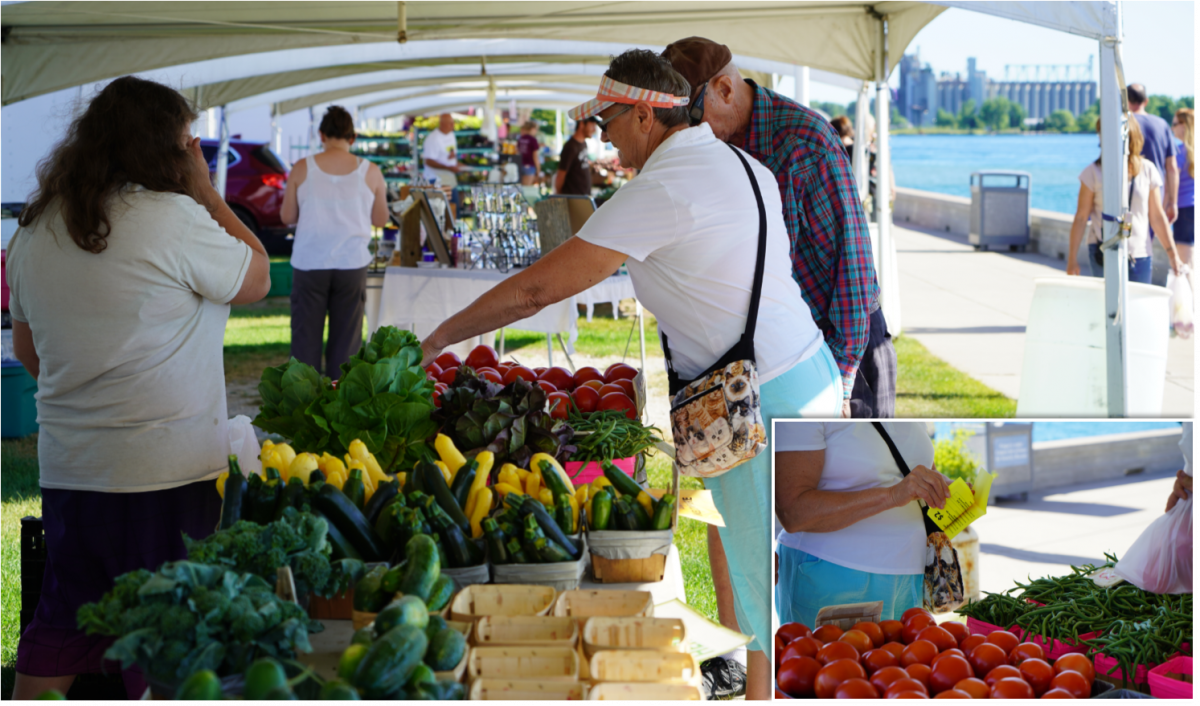 An example of the wonders that your generosity supports:
        "My husband and I have been participating in Senior Project Fresh for three years and are so thankful for it!  We were both raised on farms and grew up eating many kinds of vegetables and fruits.  With this program, we have been able to continue to eat many things we learned to love a long time ago.
        This program has helped add nutrients to our diet.  I bake pies with the fruit we purchase; and, with the vegetables such as romaine lettuce, tomatoes, peppers, and cucumbers, we are able to maintain a good healthy salad menu.  We are grateful that honey is on the list as we both love honey on many things.  Two years ago, I was a proxy for many people that live in my building as they have many health issues that kept them from going to Council on Aging to sign up.  Thank you for providing us with Project Fresh; we do eat better with this program helping us out!"
Medication Assistance ~ People's Clinic for Better Health
The Peoples' Clinic for Better Health is a free clinic which offers medical services to uninsured residents of St. Clair County, between ages 18-64.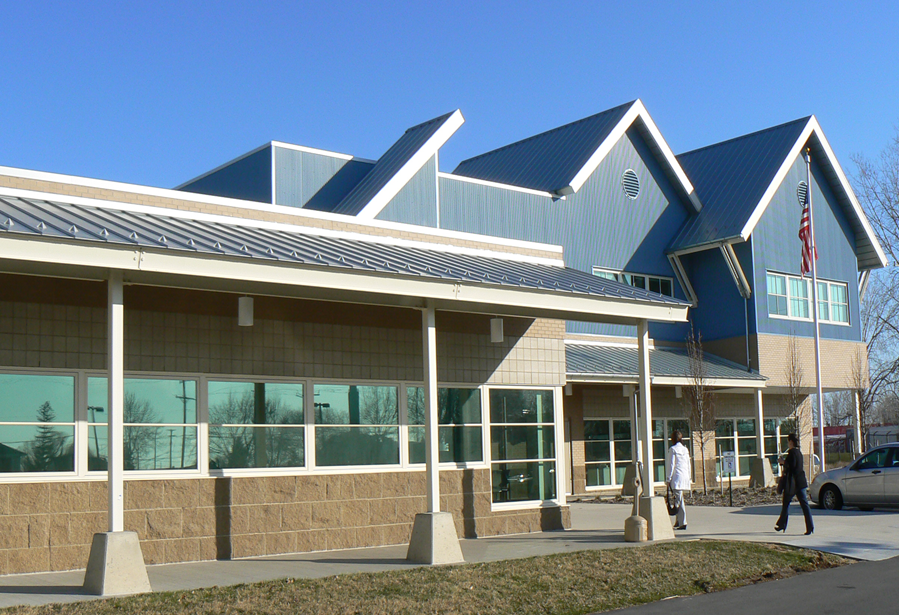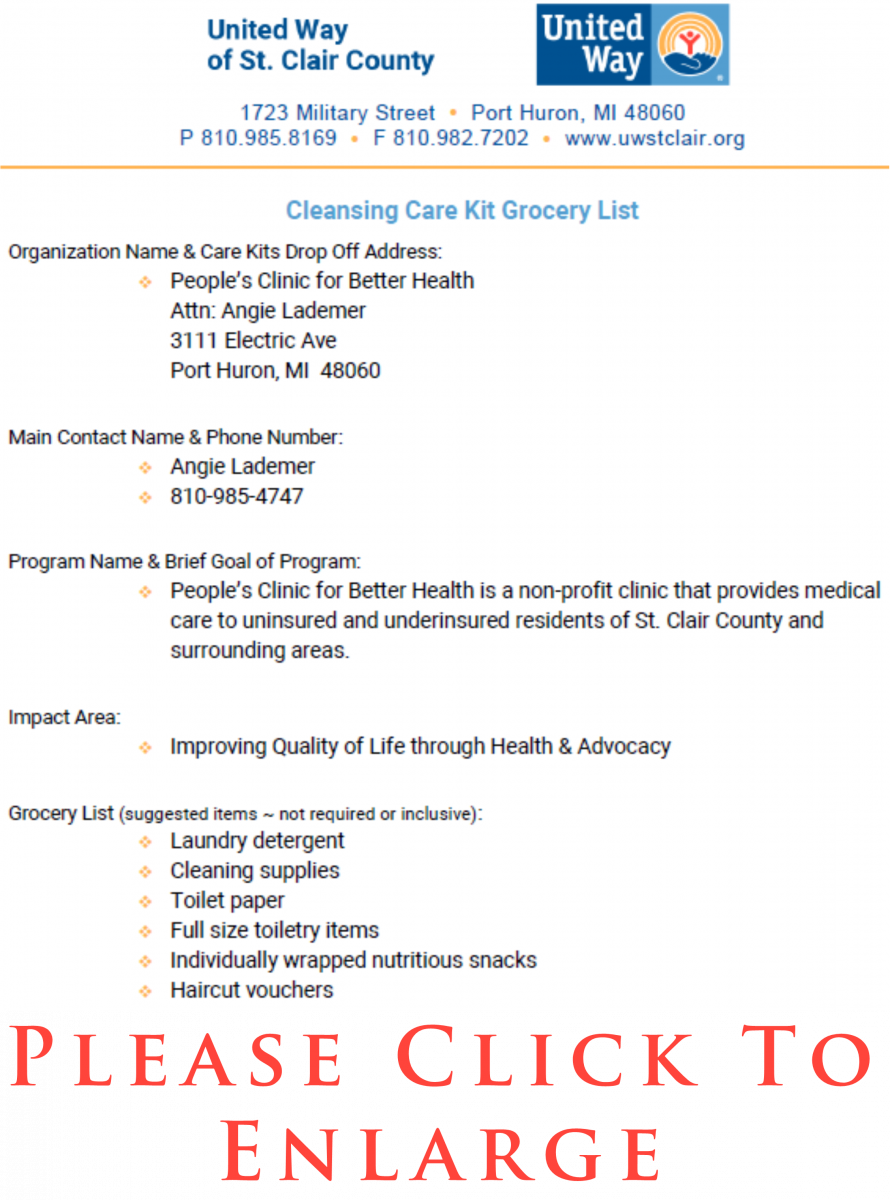 An example of the wonders that your generosity supports:
        "A low-income individual came to the clinic and, after being assessed by our clinicians, was determined to have high cholesterol.  The People's Clinic provided the patient with Lopid, a prescribed cholesterol medication, to reduce their extremely high cholesterol.  In five months' time, while being on the Lopid, we were able to reduce this individual's triglycerides from 158 to 94 and their cholesterol from 247 to 191.  The cost of this medication is $25.04, per month and was paid for through our United Way of St. Clair County Pharmacy Assistance program.  Without this medication, this patient was at high risk for heart disease.  Thank you for supporting this program that provides life-saving medications such as this!"
Advocacy Services ~ The Arc of St. Clair County
The Arc of St. Clair County is a private non-profit membership organization providing individual, system, and community advocacy for persons with intellectual/developmental disabilities.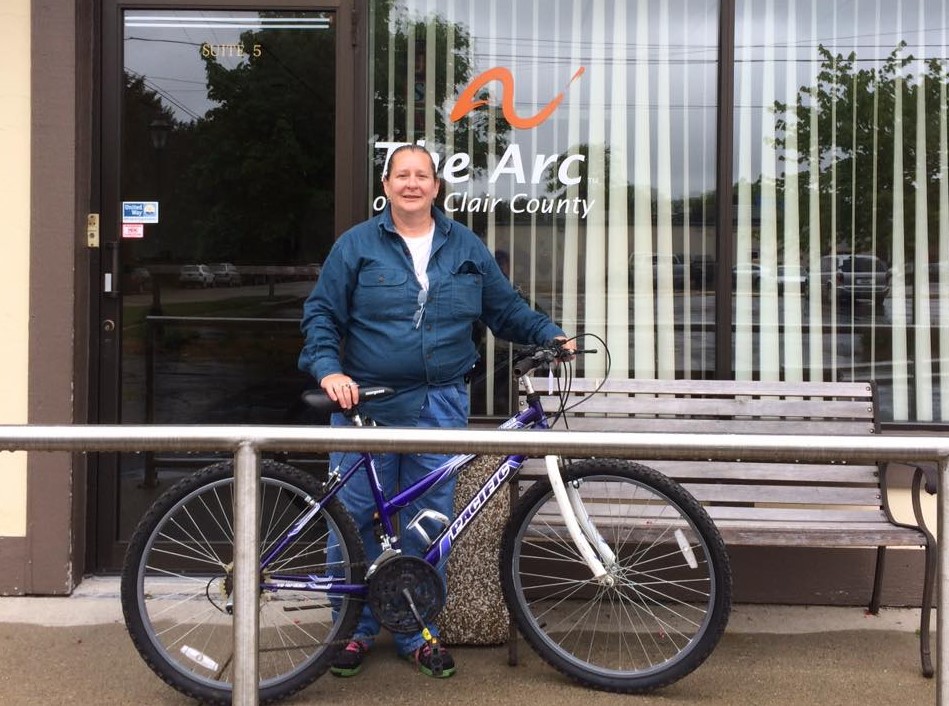 An example of the wonders that your generosity supports:
        "An individual who is 34 years old came to The Arc for services.  He had been living in a shared housing situation with another person who had begun treating him poorly and he needed to find a different living situation.  This gentleman has a mental illness and cognitive impairment.
        He lives on a modest SSI income of $735.00  per month.  He received food stamps and also Medicaid.  The landlord/roommate had told him that his share of the rent would be the utilities which included heat, electric, water, and cable/internet.  He also was responsible to pay for any repairs the house may need.  Over the course of time he had replaced inside doors, a refrigerator, repairs to the furnace and stove.  He was happy with the arrangements until his landlord/roommate started allowing other people to move in and not charging them for any cost incurred.  He started speaking out about everyone paying their fair share and then the landlord started intimidating the gentleman by playing pranks on him.  This made the individual become paranoid.  At first, the man wished to find an apartment for $400 or less.  It was IMPOSSIBLE.  After months of searching, we were finally able to find a one bedroom apartment with all utilities for $525 per month. 
        This happened to be in the middle of the month and he had already purchased a new stove and paid the utilities for the month (at his past residence) leaving him with only $141.00 for the remainder of the month. With the help of the advocate we secured some assistance not only from United Way of St. Clair County for his first month's rent, but also from DHHS for his security deposit assistance of $400.  His mental health status has improved since moving into his own place and he has more money for daily needs and food.  He reports feeling happier and healthier than he has in several years.  He has come to the conclusion that sharing living quarters is not for him and that he should remain a one man house!  He reports that he is comfortable in his new home and happy he knows he has a safe place to sleep at night!"
Special Care Services ~ Visiting Nurse Association / Blue Water Hospice
Visiting Nurse Association (VNA) & Blue Water Hospice is a non-profit organization with three branches of service: Home Health Care (Telehealth and Palliative Care), Special Care Services (Private Duty – Personal Care, Medication set-up & light homemaking), and Hospice (in-home/facility care and the Blue Water Hospice Home).  Their team of physicians, nurses, aides, social workers, and therapists work closely with the patient, doctor(s), and family to assist patients to their maximum level of health while remaining independent in their home.  VNA & Blue Water Hospice provides high-quality, cost-effective health care to patients and their families in need of short-term, long-term, and/or end-of-life care residing in St. Clair County and beyond.  A portion of the funding is used to provide personal care and homemaker services in the home for those individuals under the age of 60 requiring assistance.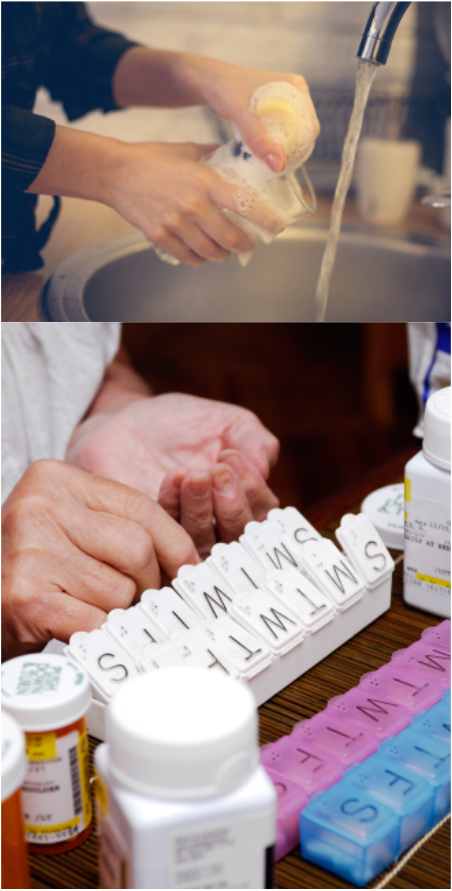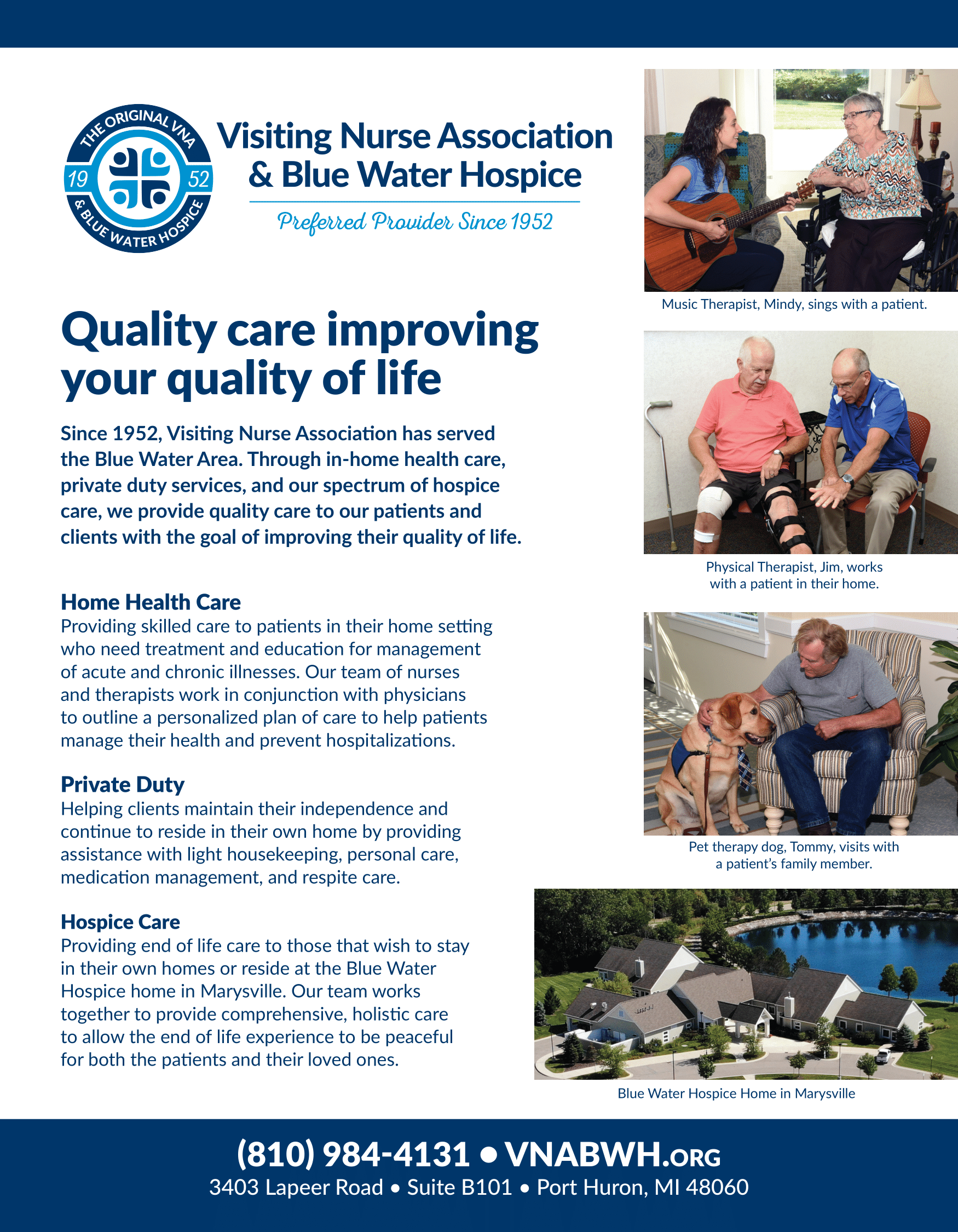 An example of the wonders that your generosity supports:
        "Under Private Duty, services such as personal care, homemaking, and medication set-up can allow individuals to remain safe and independent in their own home.  One client, who received assistance through our United Way stated 'I'm very appreciative to United Way and my aide from VNA, she is an angel, and without her help each week, I would not be able to stay in my home.'  This client received help with daily activities such as light housekeeping and laundry.  Her laundry facilities were located in the basement, and she had difficulty navigating stairs.  It was impossible for her to go up and down stairs with a laundry basket. 
Another client utilized the Private Duty services twice a week for meal prep and personal care.  He said 'without these grant dollars, I would not be able to stay in my home or get to my doctor's appointments.  I am so thankful.'"
Hospice ~ Visiting Nurse Association / Blue Water Hospice
The Blue Water Hospice Home, located in Marysville, is for terminally ill patients in need of expert comfort care as their illness progresses and when their own home is no longer an option. Our home is a comfortable and personalized setting, where registered nurses and support staff provide 24-hour care, and where family and friends can spend quality time with their loved ones, through their end-of-life journey.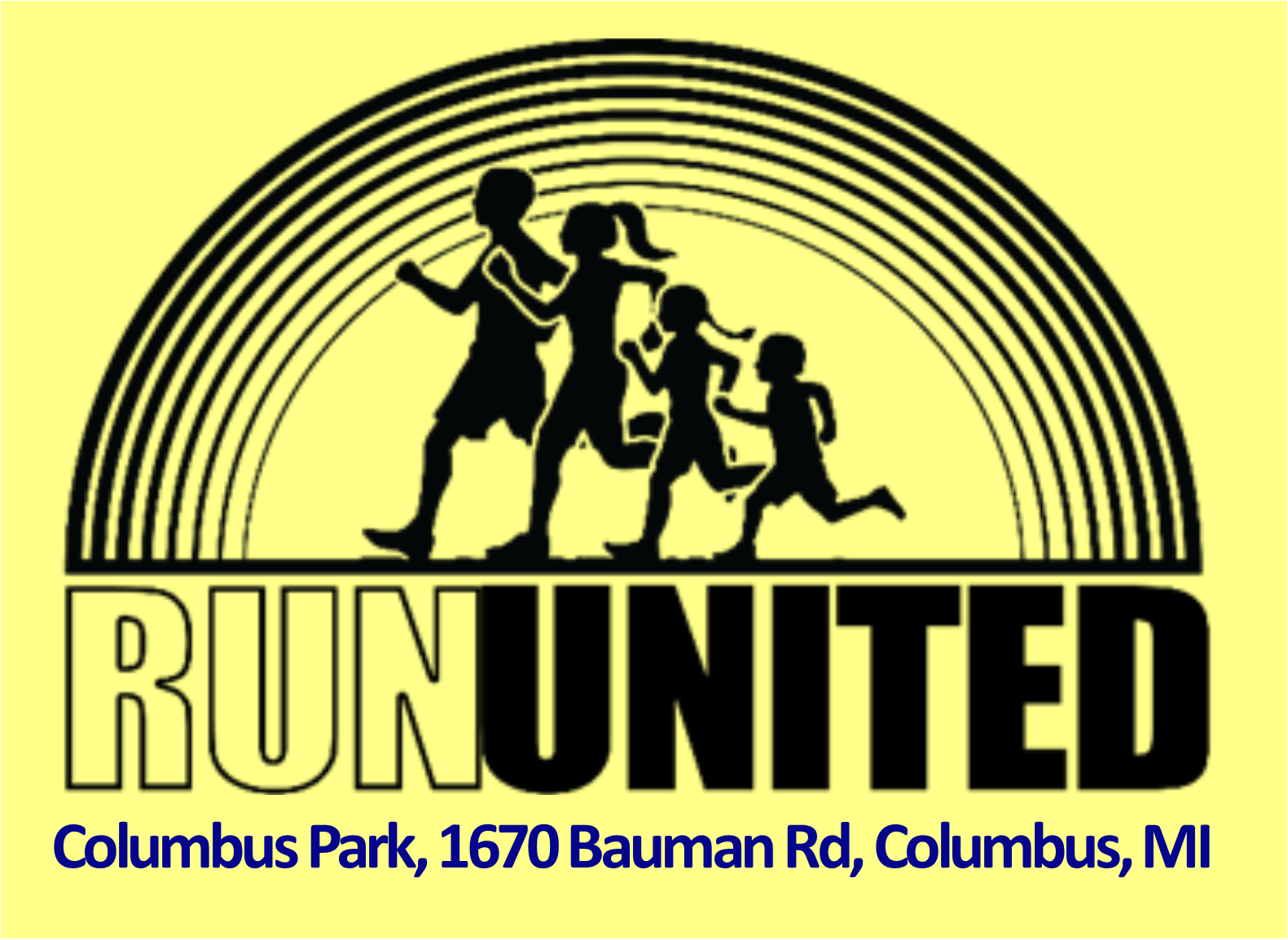 An example of the wonders that your generosity supports:
        "Recently, a young man passed under our care. He had suffered for many years with heart disease and diabetes.  The constant, around-the-clock care required, was too much for his wife while she tried to maintain her career.  While received in-home care through VNA, his diagnosis progressed, and he needed more care.  The family knew they could not afford the Blue Water Hospice Home on their own.  The United Way grant allowed him to stay at the Blue Water Hospice home, giving him and his family the gentle and peaceful ending they all needed.  The family has expressed their gratitude for our services as well as the assistance through our United Way.  His wife stated, 'I am so very grateful for United Way, I have no idea how I would have done it without them.'"