While there are many assistance programs throughout St. Clair County, the majority of the unmet needs below are due to a service not being available when the resident made their request.
---
Please read the success stories below to learn how your investment is impacting your community.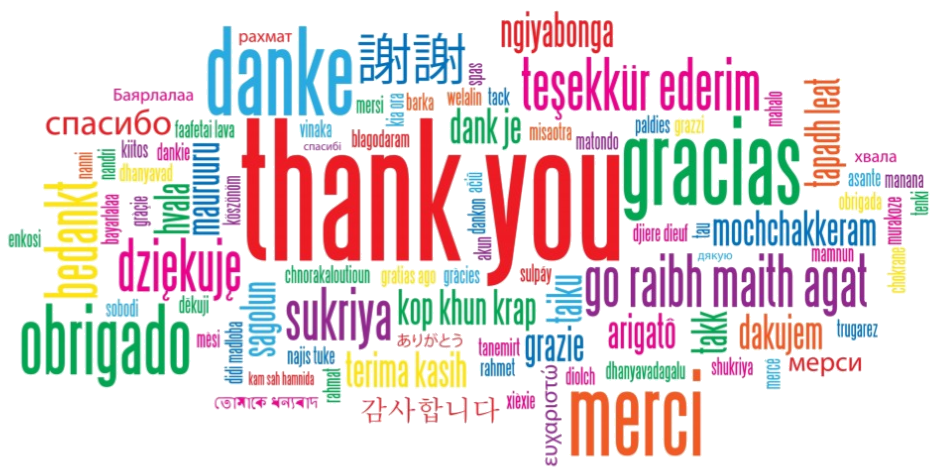 Are you looking for a service project for an individual or group?  A hands-on way to help your community?
Below are images of Care Kit grocery lists.  We encourage you to consider assembling a Care Kit for a program below.  We have included contact and drop-off information as well as a list of items recommended by the Affiliated Organization who provides the program.  When assembling Care Kits, please consider a tote or tub such as a reusable grocery bag, sinch sack, or other size appropriate storage container for packaging.  Every bit helps!
---
Funded Programs
(Click to View Details or Scroll Down to Peruse)
---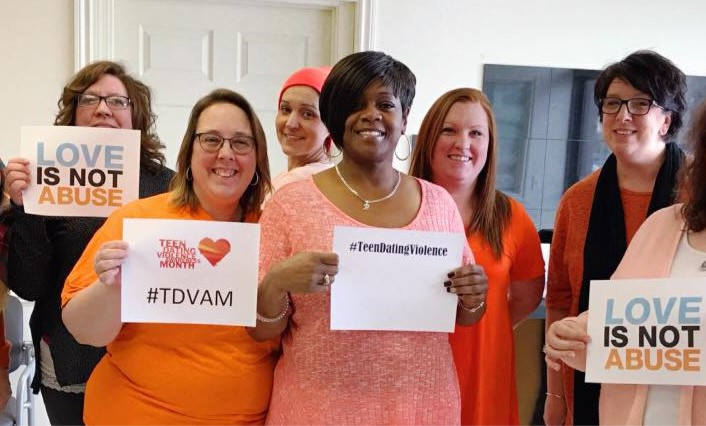 Carolyn's Place ~ Blue Water Safe Horizons
Blue Water Safe Horizons operates a domestic violence shelter, as well as an outreach / counseling program.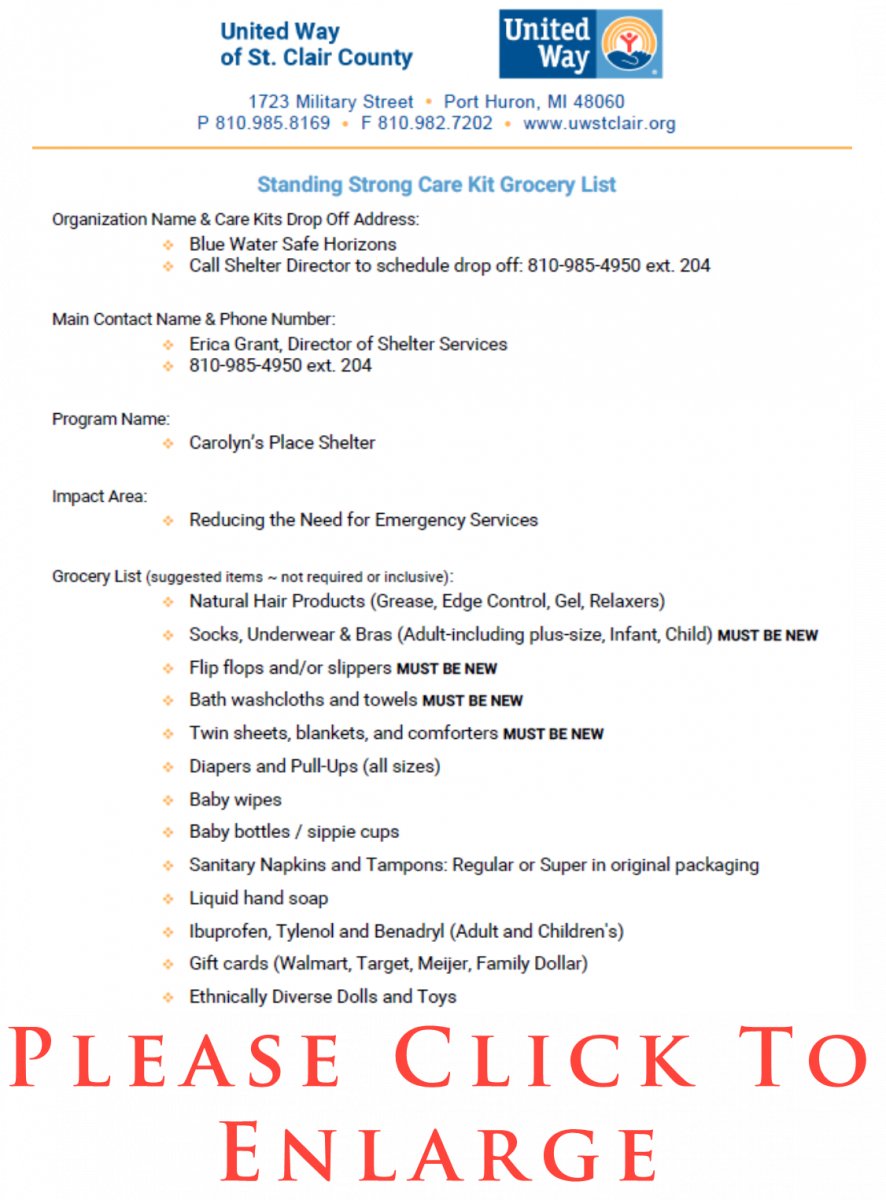 An example of the wonders that your generosity supports:
        "'Deb' entered our emergency domestic violence shelter with her four children, ages six, three, two, and one, while she was a young woman.  This was the second time in a year that she fled from her abuser.  The abuser was not only physically and mentally abusive, but also used tactics to humiliate Deb regarding her childhood sexual abuse.
        While in our shelter, Deb had to overcome many barriers.  The first was gaining the courage and belief that she was able to be independent.  Deb was given a referral to professional counseling for additional support, assistance with transportation, and other resources.  Through the empowerment and advocacy of the Blue Water Safe Horizon's Outreach staff, Deb received referrals to help her and her children secure housing, schooling, day care, employment, food, and financial support to get her back on her feet.  Threats from her abuser caused Deb so much fear, that she was unable to walk this part of her journey alone. 
        Before exiting our shelter to her new apartment, intense safety planning was done. Deb and her children maintain their safety through exit programs provided by our outreach department and attends counseling regularly.  She has come a long way and is thankful for her family's safe beginnings of a healthy life.
        Thanks to United Way of St. Clair County Contributors and collaborations with additional community organizations, Deb reinvented the lives of her and her children!"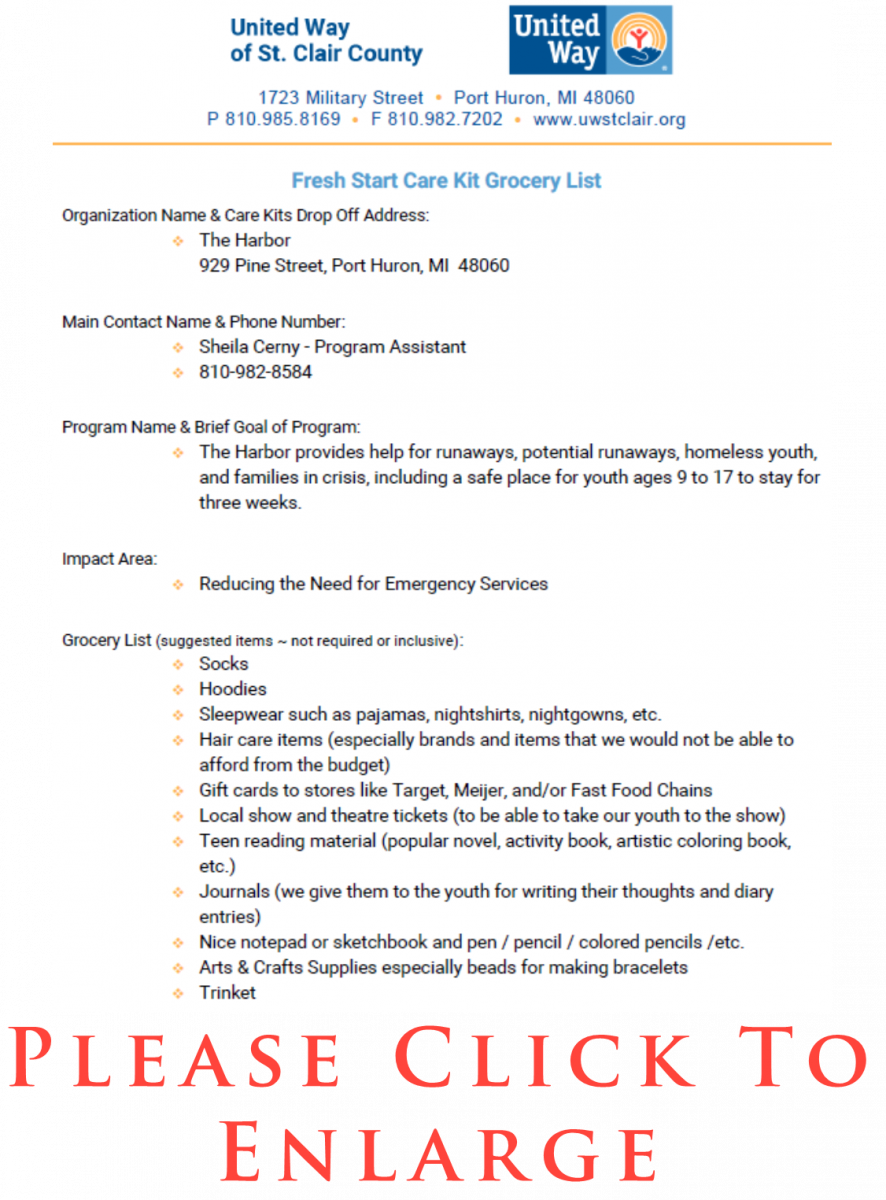 Day & Educational Programming ~ The Harbor
The Harbor provides youth between the ages of 9 and 17 a safe place to stay for up to 3 weeks.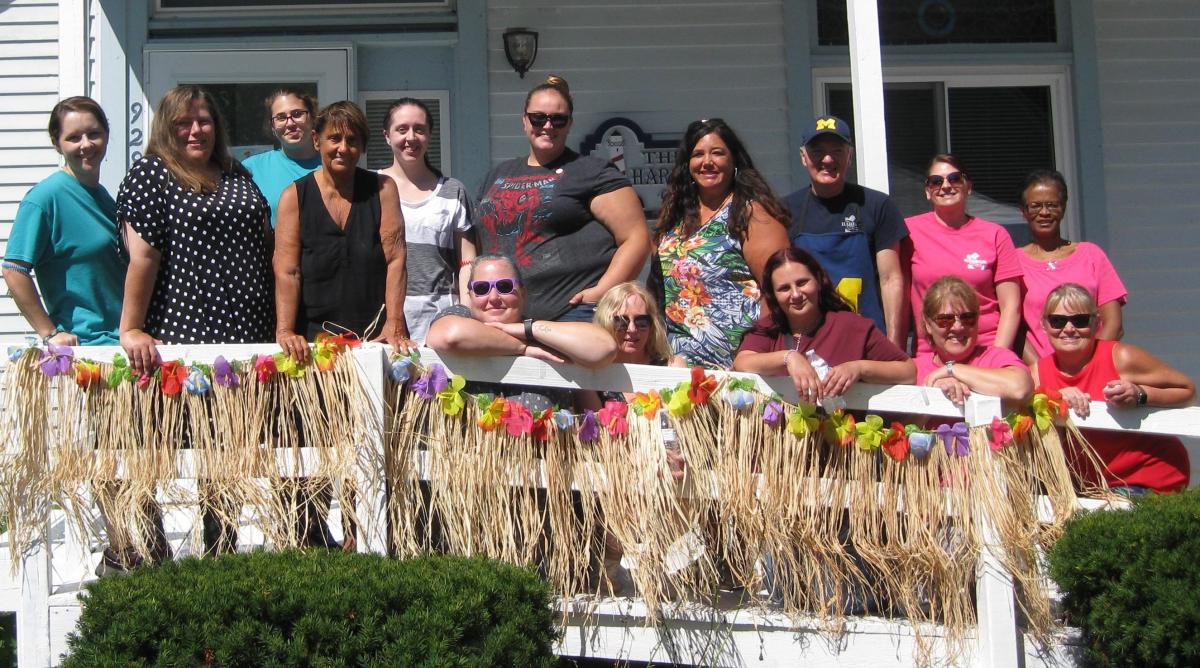 An example of the wonders that your generosity supports:
        "In the beginning of May, a set of twins came to The Harbor; they had been living in a house without utilities and were being evicted with their mom.  They were unfortunately unable to stay with their mom at Pathway Shelter because it was at capacity.  The Harbor set up an Inter-agency Service Team Meeting for this single parent who lost her job, to help start the path she needed to follow to get help obtaining housing.  This is a very long process so the youth were at The Harbor on and off during the summer.  After running out of time at Pathway, the mom had to couch surf while working and making strides to obtain housing. 
        While in The Harbor, staff counseled the twins on the struggles of being homeless and how that effects a teenager; and, helped them find employment because they wanted to earn their own money.  These strong youths did very well in the program.  Finally, the twins moved into an apartment with their mom.  The strong bond with Harbor staff that developed while working to overcome the struggles of being homeless, led to them continuing with counseling at The Harbor after they left."
Wings Transitional Services ~ The Harbor
Wings of The Harbor is a transitional living program that provides shelter for homeless or potentially homeless youth between the ages of 16 and 20.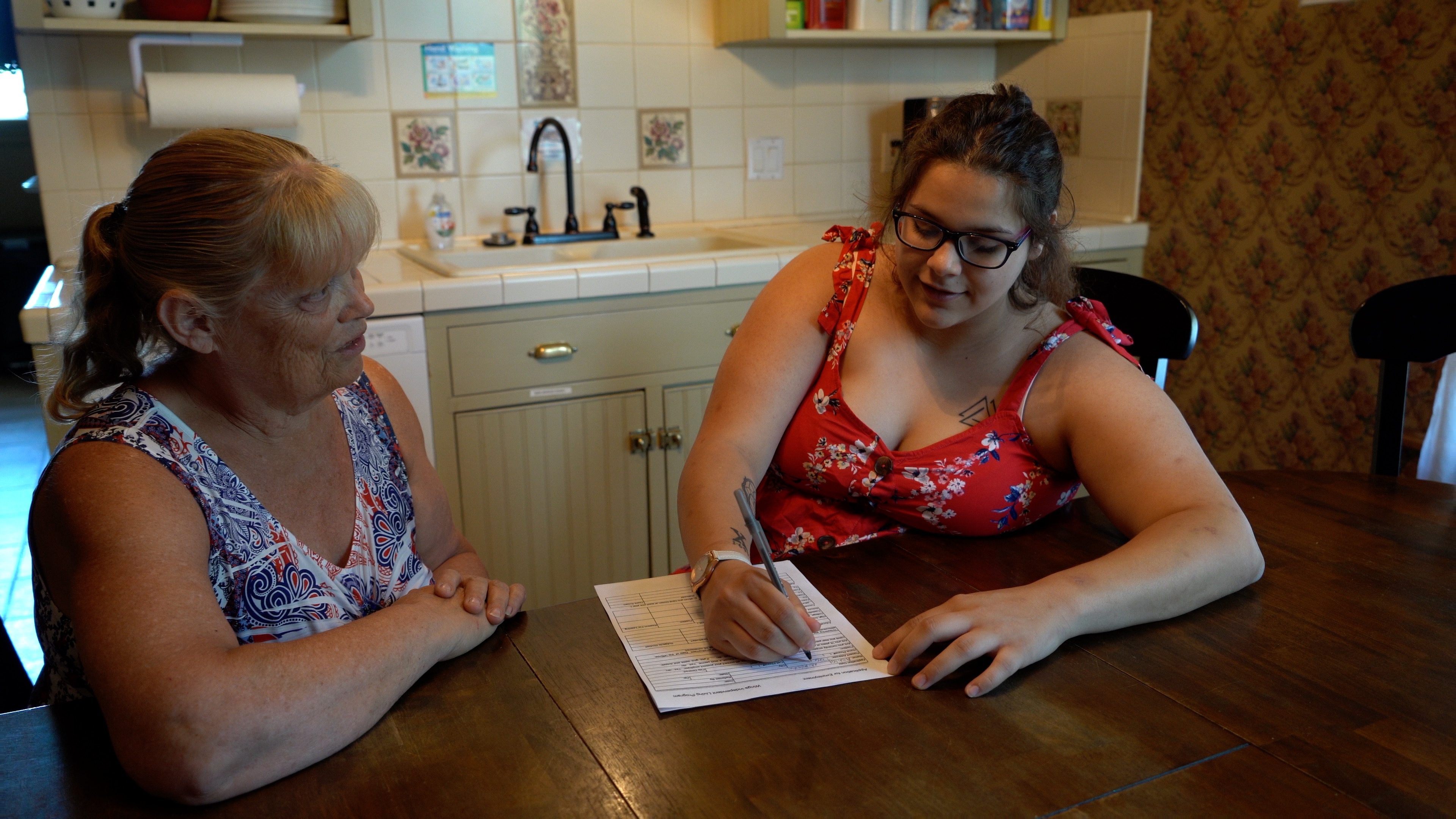 An example of the wonders that your generosity supports:
        "Wings of the Harbor served a young man that was kicked out of his home because his father's significant other didn't get along with him.  He lacked the knowledge of living independently as opposed to living with a parent.  This young man spent the next year learning the skills he would need to live on his own.  Through our life skills groups, he learned budgeting, meal planning, shopping and cooking, landlord / tenant communications, checks / balances, and other important skills.  Then, Wings helped him through the Housing Choice Voucher process.  Wings also connected the young man with various temp services for gainful employment.  He was able to qualify for our graduated housing program that helps with startup consumable goods, as well as first month's rent and security deposit.  He was finally able to successfully move out into his own apartment!"
Pathway Shelter ~ Detroit Rescue Mission Ministries
Homeless shelter for women and children; located in downtown Port Huron.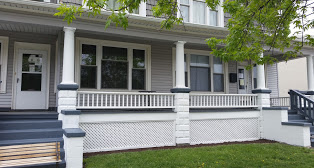 An example of the wonders that your generosity supports:
        "'Deloris' was 64 years old when she first came to Pathway a year ago. Before coming to Pathway, Deloris had been staying with various friends over the past two years since moving out of her daughter's home.  Deloris stayed at Pathway four different times in that year and during each stay Deloris would accomplish at least one of her goals even though that main goal of moving into her own housing took time. One of Deloris's goals the first time she stayed at Pathway was to find income. Pathway staff and the Elder Advocate from the Outreach Department helped Deloris explore her options and it was discovered that she was eligible for her husband's retirement benefits. Staff assisted her with her application and she was approved.
        The second time Deloris returned to Pathway she had reliable income, but voiced concerns about the condition of her mouth and teeth. So in addition to finding housing, Deloris set the goal of getting new teeth. Pathway staff connected her to Community First Health Centers Homeless Health Care Program and through that program, she began receiving no cost dental services to address her dental health.
        The third time Deloris entered shelter, she was flashing a new smile and the reason for that smile was Deloris had received notice that she was to receive a Homeless Section 8 Voucher.  During the first week of her two prior shelter stays, Deloris had completed the screening process at the Housing Assessment Resource Agency (HARA) for housing.  As a result of her second HARA screening, Deloris learned she qualified for the Homeless Section 8 Voucher and she had been placed on the waiting list. Pathway and HARA staff provided Deloris with housing case management and referrals but she struggled to find something safe and in her price range.
        The final time Deloris entered Pathway, she was smiling and beaming with hope. She had found an apartment but the landlord said the place would not be ready for move in for another two weeks. While at Pathway, the staff provided Deloris with vouchers to the Salvation Army and connected her to St. Vincent De Paul for furniture and household items for her new home. Deloris also took the time to share her story with other clients and help point them to resources that she used to help herself.  The day Deloris received her keys was one of the happiest and most fulfilling moments at Pathway. As Deloris carried her final bags out the door, she said, "Pathway is not just a shelter for the homeless, but for the hopeful."
Senior Housing ~ Sanborn Gratiot Memorial Home
Sanborn Gratiot Memorial Home is a senior assisted living facility that provides safe, affordable, meaningful and quality care.  The Sanborn Gratiot Memorial Home board is committed to providing at least 33% of the beds to persons who meet the definition of low income.  United Way of St. Clair County funding enables us to have and meet that goal.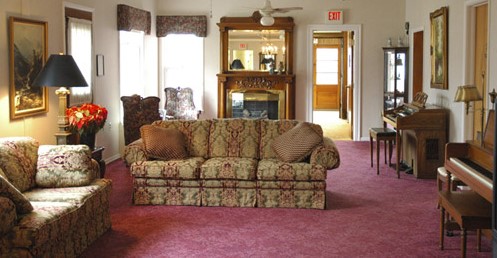 An example of the wonders that your generosity supports:
        "One of our current residents was living with her son.  Her relationship with him was becoming stressful because she now needed care 100 percent of the day.  The son had no time for himself and his family.   He was concerned because his mother did not have enough assets to go into a community assisted living facility.  The son contacted Sanborn Gratiot Memorial Home and at that time we had one of our social security beds available.  The mother moved into Sanborn and got the care she needed for a price she could afford.  The son and his mother continue see each other frequently and their relationship has greatly improved."