Who is ALICE?
ALICE is an acronym for Asset Limited, Income Constrained, Employed.
It is a way of defining and understanding households that earn above the Federal Poverty Level and still struggle to afford a basic necessities household budget.  These households are one unexpected expense of emergency away from financial crisis.
How has the number of struggling households changed over time?
"The number of households below the ALICE threshold fluctuates throughout the year.  Households move in and out of poverty and ALICE as their circumstances worsen or improve.  The general trend has been a flat recovery since 2010, the end of the Great Recession.  In many locations , the cost of basics has increased more then wages, leading to an increase in the number of ALICE households.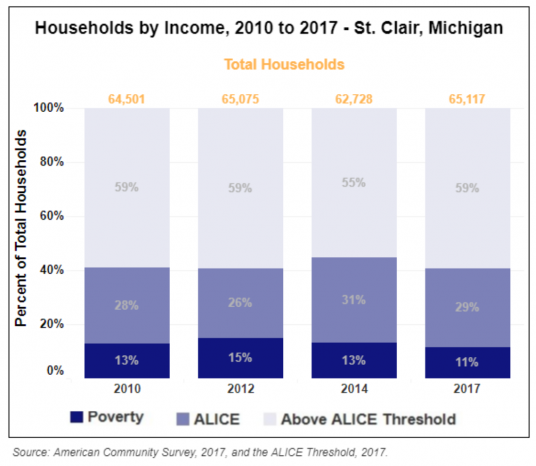 ST. CLAIR COUNTY HOUSEHOLDS BELOW THE ALICE THRESHOLD:
Algonac: 46%
Berlin Twp: 29%
Brockway Twp: 41%
Burtchville Twp: 46%
Casco Twp: 35%
China Twp: 19%
Clay Twp: 38%
Clyde Twp: 39%
Columbus Twp: 37%
Cottrellville Twp: 40%
East china Twp: 47%
Emmett Twp: 33%
Fort Gratiot Twp: 41%
Grant Twp: 31%
Greenwood Twp: 35%
Ira Twp: 35%
Kenockee Twp: 36%
Kimball Twp: 41%
Lynn Twp: 33%
Marine City: 525
Marysville: 40%
Mussey Twp: 37%
Port Huron: 60%
Port Huron Twp: 45%
Riley Twp: 32%
St. Clair: 42%
St. Clair Twp: 24%
Wales Twp: 34%
Yale: 57%